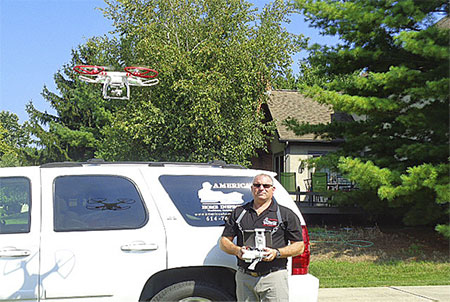 America's Home Inspections
stays on the cutting edge of technology to ensure your peace of
mind and our safety. For more than two years, AHI has utilized an unmanned aircraft vehicle or UAV, quadcopter or better referred to as a drone. This is essential for those larger/luxury homes and more challenging rooftops where the roof is too steep or high to physically walk on. 
Drones also allow inspection of blocked access areas, or those that would be difficult or impossible to reach on foot.

Our drone is camera-equipped, allowing high-quality images of rooftops and other hard-to reach areas of the property. These photos record the details of a roof in as much as the human eye could capture. The photos are incorporated on-site into the inspection report. This process assists the inspector to perform his job in an effective and safe manner.  


Rick L. Schaffer, owner of AHI, states that, "We're not like roofers; we don't carry around 30-foot ladders," he says. "It's about delivering more to the customer and working safely. And it's all part of our standard inspection package." Performing home inspections is a risky process and simply by way of nature, physically inspecting a roof carries an additional degree of risk. But by utilizing the drone instead of human workers, we are able to minimize the danger and ensure the safety of everyone.

Home inspectors using drones must use common sense and follow existing rules and regulations, which include: remaining in sight of the drone at all times, never flying higher than 400 feet, staying well clear of manned aircraft and at least 5 miles away from airports.

Rick adds, "We're not selling the drone itself or its services," he says. "It's another tool. We're constantly looking for new technology that helps us deliver better and more concise information to our customers."